The Path to Meaningful Work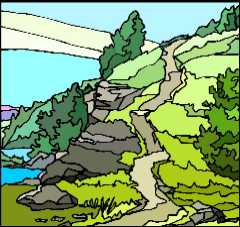 Program Syllabus:
Program Introduction
Prerequisites
Program Creators
Program Format
Program Length
Program Access
Enrollment Deadline
Learning Objectives
Program Outline


Program Introduction. This home study course differs from other vocational guidance programs in many ways, but especially in its focus on the personal search for meaning in work. The goal here is not to help you find the job that will earn you the most money—or capitalize the most fully on your talents, skills, and education—or do the most to increase your prestige—or satisfy the expectations of your family and friends.
Rather, this program is about being true to who you really are and who you want to be. It's about helping you look deep into your own heart, find what matters most to you, and make it manifest in the work of your life. It's about knowing that every task, every day, means something. It's about challenge and satisfaction and impact. If, at the end of your life, you are able to say, "I did good work, the right work for me, and it meant something," then this program will have been a success.
Prerequisites. You qualify for this program if you are unsure about what you want from your future work, or if you know what you want but don't know how to get it. You want a change. You have discovered, either suddenly or gradually, that your work life is not what you thought it was or what you want it to be. Something is missing.
If you already feel clear and good about your future and how to get there on your own, then perhaps this program is not for you right now. But if you feel confused or uncertain, or if you wish you had some guidance and support, then this program could be the next best step for you. Congratulations! The Path to Meaningful Work is a journey of personal growth. The fact that you have read this far means you have already opened the door. Now you can step forward.
Please note: There is a technical requirement for the optional online discussion groups. If you wish to participate in these groups, you must have Internet access and basic computer skills.
Program Creators. This home study program was created by Claude Whitmyer and Gail Terry Grimes, co-founders of meaningfulWork.com.
Gail Terry Grimes is a professional writer and communications consultant who has worked with hundreds of clients to improve and extend their organizational communications. She has helped dozens of major hospitals and universities make the case for their funding needs and the documents, slide shows, and videos she has produced have been instrumental in raising millions of dollars for these institutions.
Grimes is the primary architect of The Path to Meaningful Work, which is based on the unique Good Work Guidance™ consulting method developed by Whitmyer, a career guide, author, and business consultant based in San Francisco.
Claude Whitmyer has played a pivotal role in the life transitions of more than a thousand women and men who have come to him as business owners, aspiring entrepreneurs, educators, lawyers, bankers, stockbrokers, physicians, nurses, allied health professionals, artisans, artists, performers, and corporate managers and executives from such organizations as Apple Computer, Bank of America, Esprit, Hewlett Packard, Levi Strauss, Prudential, the University of California, and Wells Fargo Bank.
Some have completely changed careers as a result of completing the assignments that make up The Path to Meaningful Work. Others have found themselves better prepared to accept or reject a new job offer. Many have found greater satisfaction in their existing work. All have been exposed to principles and practices that, if fully embraced, can lead to a more meaningful work life.
Claude Whitmyer and Gail Terry Grimes have been business partners for several years. They have developed a special application combining the Good Work method with a group planning method known as Future Search, to create a self-discovery and strategic planning process for couples who run a business together known as "Planning To Stay Together."
Claude and Gail are available to advise entrepreneurial couples on how to integrate self-discovery, relationship building, and business management into an emotionally and financially secure lifestyle.
Claude is also available for one-to-one Good Work guidance for anyone who has completed the first three courses in The Path to Meaningful Work.
Program Format. Self-paced courses delivered by mail or on the World Wide Web and supplemented by optional Internet-based discussion groups built around each course. Included are readings, exercises, and inspiring stories about people who have made major changes in their lives as a result of this study process. Also included are Internet bulletin boards where students may post requests for information and resources.
Private, individual consultations with Claude Whitmyer are available by appointment in person or by phone or email for an additional $100 per hour. Although you may complete this course without ever interacting with Claude or your fellow Meaningful Work students, most people prefer at least occasional interaction. Sometimes a little feedback, a little support, and a little guidance at key moments can nudge you to the next level and make all the difference.
Studying with one or more friends is also an excellent way to keep yourself on track. When you sign up with at least one friend, you qualify for a discount on each enrollment.
Program Length. You will work at your own pace. Between two and eight lessons are included in each of the eight courses of the program. Most people spend six months to a year completing all 45 lessons. Some have completed the process in as little as a month by doing absolutely nothing else with their time. However, big changes usually take time, patience, and persistence. Best results come by completing one or two lessons a week, allowing time to practice the exercises, reflect on what you are learning, and integrate changes into your life.
Program Access. Once you have registered, you will be sent an email giving you the website address (URL) you will use to access the course. On that site, you will be given specific instructions about how to gain access to the free introductory lessons.
Course Access By Mail. This course is designed to be taken online. But if you do not have access to the Internet, we will be happy to mail you a print out of the Web pages that make up the course for an additional $5.00 per course. If you have ordered the course to be delivered by U.S. Mail, we will send you the materials within two to four weeks of receipt of your payment. Hard copy study packets include all readings and exercises, as well as instructions on how to use the course materials and how to gain access to the optional online discussion groups and Internet bulletin boards, should you later decide to do so.
Enrollment Deadline. You may enroll at any time. If you enroll for mail delivery, you will receive a calendar of dates for the optional online discussion groups. If you enroll for online delivery, you will find the calendar online.
Learning Objectives. As a student in The Path to Meaningful Work program, you will learn how to:
Clarify your personal vision, purpose, and goals.
Uncover your personal strengths and weaknesses.
Use your strengths to overcome your weaknesses.
Identify and overcome feelings and thoughts keeping you from meaningful work.
"See" and create the future you want.
Cultivate the personal qualities you need to achieve your goals.
Draw on both your rational thinking and intuition.
Build support for your quest to find meaningful work.
Write the kind of resume that reflects who you really want to be.
Determine whether you should be working for yourself or others.
Create a realistic action plan for finding the work you want.
Identify the best "Plan B" to pay the bills while you work toward "Plan A."
Keep your agreements with yourself and others.
Program Outline. Because the program builds on your progress as you go, we recommend that you complete the courses in the order they appear in the syllabus below.
Introductory Lessons: What is meaningful work? | Tuition: Free! | Available Now!
Lesson A: Start Your Learning Journal
Lesson B: Learn What Makes Work Meaningful

Exercise 1: Begin to Clarify What is Meaningful To You

Lesson C: Learn What It Takes To Find Meaningful Work

Exercise 2: Discover If You Have The Life Skills To Find Meaningful Work
Exercise 3: Discover If You're Ready To Find Meaningful Work
Course 1: Get Started | Tuition: $20 |
Lesson 1: Learn About Mindfulness And How to Use It On
The Path To Meaningful Work
Lesson 2: Design a Contract With Yourself
Lesson 3: Discover How Meaningful Your Current Work Is
Lesson 4 Build the Framework for Your Action Plan
Course 2: Get Real | Tuition: $15 |
Lesson 5: Inventory Your Financial Assets and Liabilities
Lesson 6: Inventory Your Non-Financial Assets and Liabilities
Lesson 7: Create The Strategy That's Best for You
Course 3: Assess Where You Are Now | Tuition: $25 |
Lesson 8: Identify the Milestones in Your Work History
Lesson 9: Identify the Milestones in Your Inner Life
Lesson 10: Assess Your Present Situation
Lesson 11: Assess Your Current Attitudes
Lesson 12: Open Up to Possibility
Course 4: Clarify What Really Matters To You | Tuition: $25 |
Lesson 13: Identify and Enhance Your "Life Rules"
Lesson 14: Clarify your Values
Lesson 15: Illuminate Your Personal Vision
Lesson 16: Visualize a Future of Freedom
Lesson 17: Write Your Personal Statement of Purpose
Course 5: Build Your Personal Power | Tuition: $40 |
Lesson 18: Reinforce Your Mindfulness Practice
Lesson 19: Overcome negative self-talk
Lesson 20: Identify and deal with constraining thoughts
Lesson 21: Learn to acknowledge your self
Lesson 22: Stabilize emotions through routine
Lesson 23: Build confidence through rational action
Lesson 24: Build confidence through physical and emotional action
Lesson 25: Use the power of positive affirmations
Course 6: Build Support for Your Quest | Tuition: $35 |
Lesson 26: Identify the Kinds of Support You Will Need
Lesson 27: Affirm the Support You Currently Enjoy
Lesson 28: Learn to Both Give and Receive Support
Lesson 29: Close Your "Accounts" With Gratitude
Lesson 30: Expand Your Circles of Support
Lesson 31: Learn to Manage Negative Influences
Lesson 32: Build Ongoing Support
Course 7: Choose the Work That Is Best For You | Tuition: $25 |
Lesson 33: Learn to tell "choices" from "decisions"
Lesson 34: Practice Using Oracles
Lesson 35: Reaffirm your purpose and goals
Lesson 36: Match your goals to real-world work opportunities
Lesson 37: Identify and overcome obstacles
Course 8: Take Action | Tuition: $25 |
Lesson 38: Envision your goals fulfilled
Lesson 39: Build an action plan
Lesson 40: Create the right resume/portfolio for your new future
Lesson 41: Keep your promises to yourself
Lesson 42: Recognize and reward your progress
The Path to Meaningful Work is a lifelong learning program sponsored by meaningfulWork.com. It is not a replacement for psychological counseling or treatment of any kind. Should you have any specific concerns, please seek the appropriate professional advice.
| Enroll in The Path to Meaningful Work Home Study Program |


Privacy Policy
Terms & Conditions of Use
Copyright and Trademark Information
Copyright © 1998-2011 by Claude Whitmyer and Gail Terry Grimes.
All Rights Reserved.