Original file for this info is at:
file:///C:/Users/claud/Dropbox/!CURRENT-WORKING-FILES/documents/current_cv.html
Retail—Urban lifestyle: city gardening, nomadic furniture, hydroponics, books, energy saving kitchen wares, energy-efficient heaters & woodstoves, and more
Distribution—Energy-efficient heaters & woodstoves
Manufacturing—Natural cosmetics & Toiletries
Private business school
Consultancy—Career guidance
Consultancy—E-learning and virtual communications
Consultancy—Graphic design & marketing
Consultancy—Small-business computers
E-learning and Virtual Communications
Growth Management
Marketing and Market Research and Analysis
Meaningful Work Personnel and Career Guidance
Organizational Culture Change
Partnership Mediation
Small Business Automation
Strategic Business Planning
Values-Based Management Practices
— Author
Mindfulness and Meaningful Work: Explorations in Right Livelihood (Parallax Press, 23,000 in print).
In the Company of Others: Making Community in the Modern World (Tarcher/Putnam, 10,000 in print`).
Running A One-Person Business: Business as Lifestyle (Ten Speed, 2 editions, 60,000 in print).
Running A Good Business: Right Livelihood in the Age of the Internet (Smashwords ebook)
Herding Cats Through the Gates to Cyberspace (Smashwords ebook)
— Columnist
"Focus On Software," The Office, monthly software review column.
— Journalist
Feature articles and book reviews for national periodicals and professional journals. Articles in numerous local periodicals.
Expert in small business, business computing, right livelihood. Featured in a range of media, including:
Local publications:

California Magazine
Common Ground Magazine
San Francisco Bay Guardian
Open Exchange

National media:

Newsweek
The Millennium Whole Earth Catalog

Technology or business publications:

Home Office Computing
Macintosh Business Review
PC World
Truly Portable Computers
Working Woman Magazine

Professional journals:

AHP Perspective
Journal of Business Ethics
Journal of Management Consulting

Buddhist and Yoga publications:

Lion's Roar (previously Shambhala Sun)
Mountain Record: The Zen Practitioner's Journal
Tricycle: The Buddhist Review
Yoga Journal

Nationally syndicated radio talk shows.
A Network Of Friends In Business: Origins, Purpose, and Present Status of the Briarpatch Society,

School of Broadcast Communication Arts, San Francisco State University

A Taoist View of Time

The Eric Berne Seminar, San Francisco

A Bohmian Dialogue on Opening Up to Spirit at Work

Bay Area Organizational Development Network, San Francisco

Healthy Business for Healthy Communities

International Conference on Healthy Cities (panel), San Francisco

Heart and Soul in the Workplace 

San Francisco Bay Area Book Festival (panel), San Francisco

Intuition and Livelihood

The Eric Berne Seminar, San Francisco

Is Right Livelihood Possible in These Hard Times

?,

"Experience Unlimited," California Employment Development Department,  Oakland

Mindfulness and Meaningful Work

"Institute for Creation Spirituality," Holy Names College, Oakland
Nyingma Institute, Berkeley
Mindfulness and Meaningful Work (Part of "An Evening Series for Business Thinkers: Where do we need to go? How do we get there from here?" Other speakers in the series included: Willis Harman, Dennis Jaffe, Michael Ray, Mary Scott, Terry Pearce, and Edgar Schein. )

"Center for the Future of Organizations," California School of Professional Psychology, Oakland

Right Livelihood and Ethics

College of Notre Dame de Damur, Belmont, California

The End of Work, The Reinvention of Work, Own Work, Future Work, and Good Work: Practical Steps

Saybrook Graduate School, San Francisco

Using Mindfulness to Find Meaningful Work

Sacramento Buddhist Meditation Society
Institute for Transpersonal Psychology, Menlo Park

What Is Right Livelihood?

The Eric Berne Seminar, San Francisco

Working for Yourself versus Getting a Job

 Haas School of Business, University of California, Berkeley
The Center for Good Work, San Francisco, January 1987 to present
Small Business Consulting and Training Firm.
Provide advice and training on marketing, management, and meaningful work. Client base of 300 small businesses and community organizations and nearly 500 individuals, primarily in the San Francisco Bay Area. Offer periodic workshop series on values-based management for small organizations. Provide career transition guidance for individuals seeking a values-based work life. Offer periodic workshop series on livelihood issues. Provide advice and resource referrals to 400+ alumni.
The University of the Future LLC (FutureU™), San Francisco, January 1997 to present
Large Organization Consulting and Training Firm.
FutureU™ serves both business and academia and specializes in organizational learning. Our most requested services include:
Training programs for:

How to design, build, and deliver online courses,
Online collaboration and communication, including:

Web conferencing
Virtual teaming
Virtual community building

Research services, including:

Market research
Readiness assessments
Needs assessments
Feasibility studies

Technology tool evaluation and implementation management.
Content development, including:

Course development
Curriculum development
Program evaluation

Content delivery:

webinars
online courses
online programs

Learning expeditions to actual businesses
Training programs for:

Leadership development
Professional advancement
Talent retention
— Founding Program Director
Master of Arts in Business, California Institute of Integral Studies. San Francisco, 1993-1995
Advanced Degree Program. (See listing under "Educational Administration Experience")
Research & Planning for Business, San Francisco, 1986-1987
Market Research Firm.
Participated fully in all aspects of work, including sales, proposal preparation, research, analysis, and reports.
Learned and utilized the market research techniques of surveys, one-on-one interviews, and focus groups.
Developed a two-step proactive marketing program involving mail solicitation with follow-up telemarketing.
Created and published a quarterly newsletter.
Produced special promotional events.
Responsible for the creation and maintenance of computer systems for survey analysis, document processing, and accounting.
Developed personnel and policy manual.
Supervised one employee in the operation of the business and various subcontractors in the execution of projects.
Clients included:

Apple Computer
Fujitsu America
Hibernia Bank
Pacific Bell
Southland Corporation (7-11 Stores)
— Director of Value-Added Services
Softyme, Inc., San Francisco, California, 1983-1985
High-Tech StartUp
Recruited as an independent consultant to help build a management team for this start-up venture specializing in the distribution of software over high-speed telephone data lines.
Designed and created a "Value-Added Services" department to provide customer and supplier support services.
Managed department during the critical start-up phase.
Answered directly to the Vice-President of "Value Added Services" and the CEO.
Stood in for V.P. at Board and company meetings when necessary.
Created management and reporting systems.
Recruited and hired staff.
Directly supervised three employees.
Provided meeting facilitation and technical and training support for all departments.
Noren Institute, San Francisco, 1983-1988
Private Business School.
Developed twice yearly workshop series on honest management for small businesses.
Acted as co-instructor of all workshops.
Created newsletter and lecture series as promotional vehicles.
Provided resource referral service for 150+ alumni.
Enterprise Support Center, San Francisco, 1983-1986
Small Business Consulting Firm.
Provided consulting service to small businesses on the issues of bookkeeping, marketing, and growth management.
Worked with a client base of 200 small businesses, primarily in San Francisco.
A major consulting client was Research & Planning for Business (see above), which led to a partnership in January 1986.
Living Lightly, Inc., San Francisco, 1980-1983
Alternative Energy/Appropriate Technology Retail Store.
General Manager, 10% shareholder, and Chairman of the Board.
Managed 3,000 ft2 retail space.
Duties included:

bookkeeping
purchasing
sales
new product research & testing
marketing and promotion

Store specialized in reasonably priced, environmentally safe products for energy conservation and city living. Most of the inventory had been previously reviewed in The Whole Earth Catalog.
Inventory included:

energy efficient wood burning stoves
demand hot water heaters
energy saving space heaters
water and energy saving devices
energy-saving kitchen items and appliances
nomadic furniture for city dwellers
drip irrigation and organic gardening supplies
tools
books
outdoor gear

Developed a unique marketing approach which included a newsletter and classes on:

"San Francisco Community Gardens"
"Organic Gardening in The City"
"Home Canning"
"Energy Conservation for City Dwellers"
"Emergency Food Storage"

Primary responsibility for the design and implementation of systems and procedures that allowed the store to grow in 9 months from $50,000 in annual sales to $300,000.
Supervised seven employees and three assistant managers.
Special Services, San Rafael, California, 1979-1984
Alternative Energy/Appropriate Technology Distribution Company.
Started and operated a successful one-person distribution company pre-dating but selling many of the same products as the Living Lightly retail store (see above).
Living Lightly was originally a customer until I joined the company as a new investor and general manager.
E.V. Warehousing, San Leandro, California, 1977-1979
Business-to-Business Public Warehousing.
Provided storage, shipping, and receiving services for small businesses.
Designed and implemented management and traffic control systems for a 10,000 ft2 public warehouse.
Duties included systems and forms design, and employee supervision and training.
Supervised three full-time and 20 part-time employees.
Developed a liquidation system for surplus goods.
Harmony, Inc., Santa Rosa, California, 1975-1976
Small cosmetic manufactory.
One-third owner of the corporation.
Corporate duties as secretary/treasurer.
General manager of 2,600 ft2 natural cosmetics & toiletries manufacturing facility.
Duties included:

bookkeeping
purchasing
production management
shipping
sales
product development
label design.

Mostly private label contracts and institutional sales. But included three product labels:

Harmony Products
J.N. McMartin
Clear Creek

Products included:

Hand cream
Shampoo
Hair rinse
Beard groom
Suntan lotion
Massage oil
Incense
Soap
Scented lamp oil

Supervised two employees and personally handled 30 retail accounts.
Awakening Technology, Lake Oswego, Oregon. February 1996 to October 1996
Action Research Project.
Working with a group of 50 corporate managers and consultants from around the country to experiment with deepening the connections possible through groupware-supported communications over the internet.
Responsibility for getting to know participants, helping them feel safe and welcome, acknowledged and expected.
And after they are comfortable, helping them connect with each other in powerful ways that support their individual and group quests.
Since the project is conducted on-line we automatically created a documentary record of our experiment which was then analyzed and reported to the professional literature.
(Awakening Technology's founders, Peter and Trudy Johnson-Lenz coined the term "groupware" in 1978 [ http://portal.acm.org/citation.cfm?id=290575.290585 ]
"Master of Arts in Buisness," California Institute of Integral Studies, San Francisco. 1993 to 1995
Conducted ongoing research into the teaching and learning practices of transformative learning utilizing the qualitative research tools of:

action inquiry
empowerment evaluation
ethnographic auditing
ethnography

Designed and participated in evaluation studies of faculty and director roles, programs, and school.
Briapatch Network, San Francisco. 1984 to present
Conduct periodic financial and demographic surveys of the membership.
Designed and implemented a qualitative study to measure characteristics of success.
Supervised five apprentices in the collection and analysis of data.
Research & Planning for Business, San Francisco. 1985-1987
Conducted qualitative market research for corporations such as Apple Computer, Fujitsu America, Hibernia Bank, Pacific Bell, and Southland Corporation.
Participated fully in proposal preparation, research, analysis, and reports.
Produced special promotional events with a built-in market research component.
Developed computerized survey analysis.
Supervised one employee in the operation of the business and various subcontractors in the execution of projects.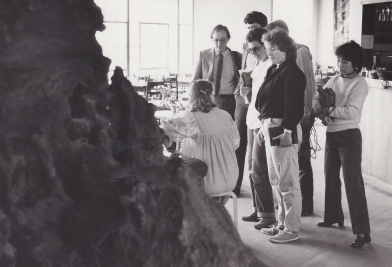 Primary subject areas:
Breaking Through to Good Work
Building Support for Right Livelihood
Running a One-Person Business
Marketing without Advertising
Personnel as if People Mattered
Growth Management and "Right-Sizing"
Honest Selling
Honest Consulting
Fun in Business
Other focuses:
Mindfulness
Meaningful Work
Community Building
Free Agentry in Business
Faculty Development Specialist:

Coaching and Training Faculty in the use of technology and the Internet in planning, building, & teaching virtual or blended courses for higher education institutions such as:

California Virtual Campus
Columbia College of California
Dominican University of California
King Abdul-Aziz University
Missouri State University
Modesto Junior College
Saybrook Graduate School
Thompson Rivers University
Universidad Interamericana, Recinto de Puerto Rico

Online Teaching and Learning
Planning, Building, and Teaching a Blended or Virtual Course
Learning Disciplines

Personal Mastery
Mental Models
Shared Visioning
Team Learning
Systems Thinking
Stewardship, Followership, and Transformational Leadership
Example Projects:
— Course Developer, Faculty Advisor
Designing and delivering modules on Systems Thinking and Leadership to:

The "Fellowship in Creating Healthier Communities" and the "Accelerating Community Transformation" project of the American Hospital Association's Health Forum Fellowship.
— Curriculum Consultant/Project Manager
Lead a team of 12 faculty developers to create 16 modules and three certificate programs for the "Center for Professional Education" at the University of Phoenix-Online Campus.
— Founding Director and Associate Professor
Lead the development of a "new paradigm" graduate degree stressing social and environmental responsibility: the "Master of Arts in Business" at the California Institute of Integral Studies (a graduate school of philosophy and religion)—With 35 graduates, this experimental program was one of the first graduate business programs on the planet to be delivered online.
— Business Instructor
Adjunct faculty or instructor on a wide variety of topics to institutions including:

The Center for Good Work
Ecole Nationale des Ponts et Chausées
Goddard College
Heald Business College
Holy Names College
McKinnon School of Massage
New College of California
Noren Institute
Prescott College
Renaissance Entrepreneurship Center
Writers Connection
Thompson Rivers University, Kamloops, British Columbia, Canada, 2018
— Instructor and Virtual Community Facilitator
"Big Apple Green: A Virtual Community for the Green Businesses of New York City"
The Consortium for Worker Education, New York, 2012